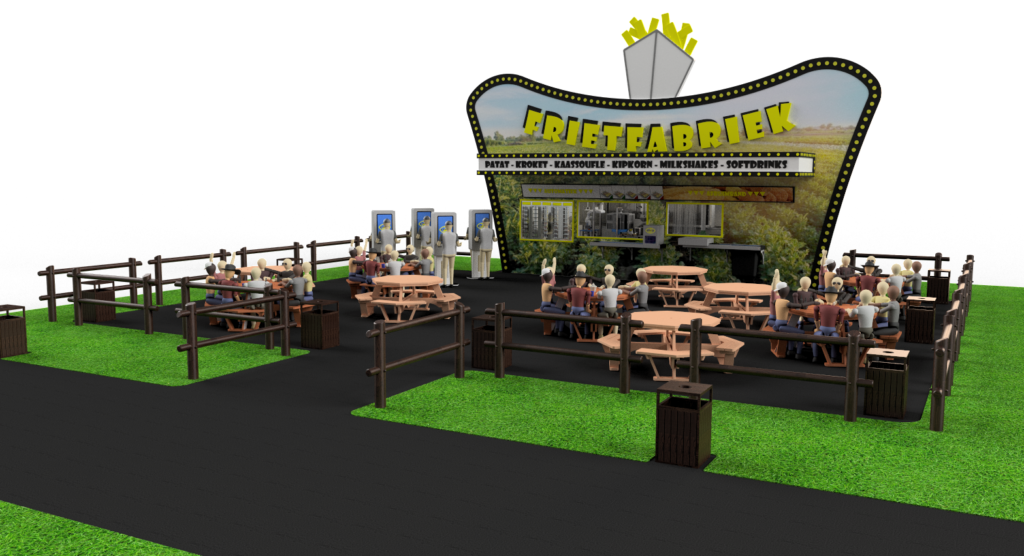 Running a cafeteria fully automatically is now possible with the Lokettaria+.
Chips with sauce, soft drinks, milkshakes, frikandel sandwiches, served on a tray.
Processes 450 products over 50 trays per hour.
without the intervention of an employee.
Capacity up to 450 products per hour (42 trays of 3 fries, 3 snacks, 3 drinks) (72 snack via counter vending machines).
Contactless and cash payments.
All functionalities of Loket4.0 Loket+ & Lokettaria are integrated.
6 different snacks to sell (can be increased without limit).
Automatic oil filtering, and quality monitoring.
Ambient climate control.
Exhaust air nitrogen filtering.
Link, cash register, ERP and/or other administration system.
Possibility to build indoors.
Remote visualisation via network and/or internet of current filling and sales. For example, via a tablet if the installation is not visible to an employee.
Complete visualisation of all sales counts up to every minute for the last 25 years. (Number, type, price, temperatures, payments, oil quality, stock etc.)
Digital temperature controls.
Opening hours adjustable.
Artificial intelligence ensures energy-conscious use of the mechanical plant as well as energy consumption and waste reduction by estimating the correct planning of products.
Prices are adjustable.
Happy hour prices can be set depending on time and date.
But 1x per week supply and cleaning of the kitchen necessary.
Email, SMS and Whatsapp functionalities for status updates.
Intercom system for remote support.